Political Interference, Circuit Breakers, and More Red Days: NEPSE Weekly Summary
NEPSE closed green only one day in the five trading days this week. The NEPSE index closed at 2,376.74 this week after a fall of 73.23 points (-2.99%). The index had closed at 2,449.97 last week with a fall of 5.27% from the week before that.
This week, the index went as high as 2,490.62 and as low as 2,259.63, hence witnessing volatility of 230.99 points.
Analysis of Trend
The NEPSE index is up more than 18% compared to the same date last year. However, it has lost more than 25% from the all-time high of 3,198.60 created around four months ago. The index has bounced back after reaching the nearest intraday low of 2,259.63 on December 13.
Candlestick Charting & Analysis of Unique Market Movers This Week
On the weekly candlestick chart, this week's market movement has formed a candle similar to the hammer candlestick, but with an additional upper wick. Although the index lost this week in overall market action, it had gained a vigorous 6% on December 14, hence hitting the circuit breaker for the day. However, the two trading days that followed could not continue the bullish momentum.
The upper wick of the candlestick formed on December 15 was extended as high as 2,490.62. Combining this with the assumed psychological resistance at the 2,500 level, it can be inferred that 2,500 can act as a probable resistance for the upcoming week's market action.
It is difficult to ascertain whether this week's market movement was completely guided by natural supply/ demand forces since the capital market witnessed political interference this week. Pushpa Kamal Dahal, former Primer Minister of Nepal, condemned investment in the stock market and alleged that NEPSE, SEBON, International Monetary Fund, and World Bank are the modern form of imperialism. The index had then lost in the days that followed. Following this, another former PM KP Sharma Oli remarked sarcastically that Dahal must have been acting on his personal ego, perhaps a result of an investor not extending financial support to Dahal.
Moving Averages
NEPSE index is below both 5 days Exponential Moving Average (EMA) and 20 days EMA. The index below these moving averages signals for bearishness. The 5 days EMA crossed the 20 Days EMA from above on November 25, forming a Dead Crossover pattern. The Dead Cross is a technical pattern indicating the potential for a downtrend, and the index has been losing ever since.
The 200-day simple moving average (SMA) is also considered a key indicator by traders and market analysts for determining overall long-term market trends. The price went below the 200-day SMA on November 23. When a stock price moves below the 200-day moving average, it's considered a bearish signal indicating a likely downward trend in the stock.
Momentum Indicators
The relative strength index (RSI) is a momentum indicator used in technical analysis that measures the magnitude of recent price changes to evaluate overbought or oversold conditions in the price of a stock or index. Traditional interpretation and usage of the RSI are that values of 70 or above indicate that a security is becoming overbought or overvalued and may be primed for a trend reversal or corrective pullback in price. An RSI reading of 30 or below indicates an oversold or undervalued condition.
The RSI reading on the daily timeframe is 33.84. Meanwhile, the RSI reading on the weekly chart is at 35.67.
On the other side of things, both the MACD line and the signal line are negative, i.e. below zero in the daily timeframe, with the MACD reading at -93.74. The MACD line is below the signal line, and both are negative, hence indicating a general pessimism in the market.
Support and Resistance
There is no rigid rule to deduce support and resistance levels from a stock/ index chart.
The resistance level is simply the price above which the index has had trouble moving up. Thus, the previous high (or a series of highs if they are on the same level) can be used as resistance. Meanwhile, if the stock or index chart has gone below the previous low, it can also be inferred as a resistance level, since the previous support level acts as resistance if the price/ index has broken below it.
On the other hand, the support level is simply the price below which the index has had trouble moving down. Thus, the previous low (or a series of low if they are on the same level) can be used as support. Meanwhile, if the stock or index chart has gone up the previous high, it can also be inferred as a support level, since the previous resistance level acts as support if the price/ index has broken above it.
With these considerations, the NEPSE has index has immediate resistance at around 2,490.62. On the other side of things, the nearest previous low is at 2,259.63, which may serve as immediate support.
Fibonacci Retracement
Meanwhile, one can also draw the Fibonacci Retracement from the major-trend extreme points to ascertain the S/R levels. In this instance, we have taken 1,093.07 index level as the extreme-low and 3,193.16 as the extreme-high.
On these assumptions, the index is very near the resistance zone at 2,390.93. Significant resistance may be found higher at 2,697.54 and then at the ultimate peak, i.e. 3,193.16.
On these very assumptions, the nearest major support is at 2,143.11, and then at 1,895.30.
Weekly Market Summary of NEPSE:
More than 3.64 crore unit shares worth Rs 16.11 Arba have been traded through 2.52 lakh transactions this week. The current market capitalization of NEPSE stands at Rs. 3,341,449.86 million.
NEPSE index and Sub-indices performance: (Decline is based on the previous week closed value)
The NEPSE index decreased by 2.99% this week. All the sectors lost in this week.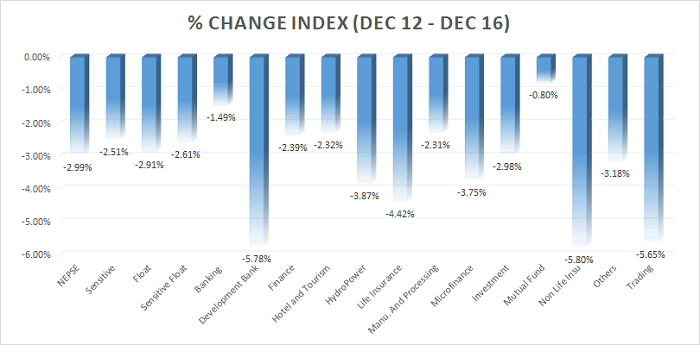 Stock with the highest monthly Beta value from the Microfinance and Non-life insurance and Hydropower.
Samling Power Company Limited (SPC) has the highest monthly Beta value of 0.69 followed by ICFC Finance Company Limited (ICFC) and Manushi Laghubitta Bittiya Sanstha Limited (MLBS) with 0.55 and 0.52 beta values respectively.
Top Ten Gainers of the week:
Gurkhas Finance Limited (GUFL) is the top gainer of this week. GUFL closed at Rs. 923 with Rs. 197 (27.29%) increment.
All the analysis is done with the SS Pro Software. To know more about the software, click on the link below
Top Ten Losers of the week:
Lumbini Bikas Bank Limited (LBBL) price has decreased by 18.70% and its LTP stands at Rs. 426.
Top Stocks by Turnover, Volume, and Number of Transaction:
Manjushree Finance Limited (MFIL) is the top traded company of the week. A total of Rs. 63.66 crores worth of MFIL shares were traded this week.
Top Buyers Brokers of the Week:
Naasa Securities Co.Ltd (Broker No- 58) was the top buyer broker of this week and it has bought stocks worth Rs 96.05 crores.
Top Buyer Brokers Top 10 Bought Companies:
Top Seller Broker of the Week:
Naasa Securities Co.Ltd (Broker No- 58) was the top seller broker for this week. The brokerage firm has sold stocks worth Rs 87.96 crores.
Top Seller Brokers Top 10 Sold Companies:
All the analysis is done with the SS Pro Software. To know more about the software, click on the link below
Major Highlights of the week:
7 More BFIs Start Real Time Gross Settlement (RTGS) System
Nepal Hydro Developer Limited (NHDL) Proposes 7.3684% Dividend for FY 2077/78
Agricultural Development Bank (ADBL) proposes 21.0526% Dividend, 6% Cash Dividend also proposed for Preference Share
Bonus Shares of These 2 Companies Are Now Listed in NEPSE
SEBON Approves 2: 1 Rights Proposal of Samriddhi Finance (SFCL), Company to Issue 27,29,705 Shares
Exports Increased 104.3% Compared to Same Period Last Year, Imports Also Went Up 61.6% (Economic Summary of First Four Months of Fiscal Year)
Mountain Energy Nepal (MEN) Calls AGM With These Agendas
Commercial Banks Keep Interest Rates Stable: Why This Happened and What It Means
Finance Minister Sharma Provides Assurance of Speedy Reforms and Sustained Development of Capital Market
"Global IME Sammunat Scheme - 1" Distributes 100% Cash Dividend
4% Agricultural Bond of ADBL Listed in NEPSE
Trading Halted For 40 Minutes, NEPSE Index Gains 5% and Hits Positive Circuit Breaker
Total Deposits Went Down Rs. 5 Billion in Third Week of Mangsir, Lending Went Up Rs. 8 Billion
IPO Proposal of Eastern Hydropower Limited in SEBON's Pipeline, Here's What You Should Know About the Company
Nepal Reinsurance Company (NRIC) Calls AGM on Poush 22, When's the Book Closure for Dividend?
Khaptad Laghubitta appoints Prabhu Capital as issue manager to float its ordinary shares
Butwal Power Company (BPCL) Proposes 20% Dividend, When's the Book Closure?
Mega Bank convenes its 11th AGM; endorses proposal of 12.07% dividend to shareholders
Kathmandu Valley reports year's lowest temperature of 4.3 degrees Celsius
As NEPSE Spirals Down, These Stocks Are Near Their 52-Weeks Low
Goodwill Finance (GFCL) Proposes 13% Dividend for FY 2077/78
Experts Forecast Price Hike and Shrinkage in Imports As Nepalese Currency Weakens Against the US Dollar
Manakamana Smart Laghubitta (MKLB) Calls AGM to Endorse 17% Dividend and Elect Board Members
CDS and Clearing Limited Proposes 40% Dividend for FY 2077/78, AGM Called on Poush 19
Sana Kisan Laghubitta (SKBBL) Calls AGM to Endorse 26.315% Dividend, When's the Book Closure?
---