Partnership with private sectors for economic recovery: Finance Minister Sharma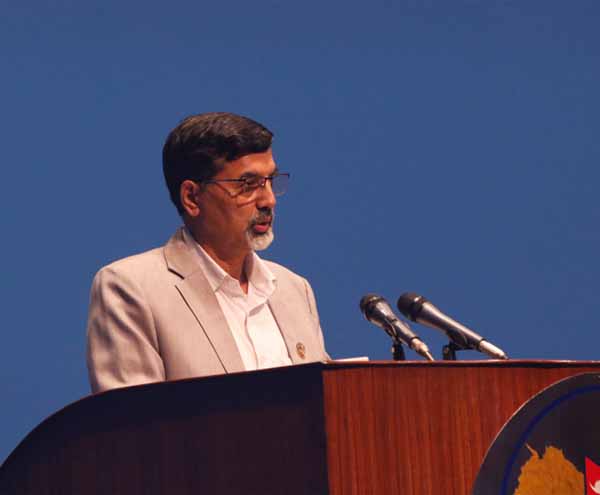 Finance Minister Janardan Sharma has said government is ready to work together with private sectors for the economic recovery. Private sectors should involve in infrastructures building in partnership with public sector, he said, assuring government support to it.
Minister Sharma was speaking at a programme organized by Nepal Association of Financial Journalists' (NAFIJ) in the federal capital on Wednesday. "Private sectors' support is essential to make the national economy robust," he said, expressing hope for the enabling atmosphere for it.
He also vowed facilitation from government side for private sector initiatives. Development of economy is imperative for Nepal's health, education and social developments too," Sharma underscored.
On the occasion, Nepal Rastra Bank Governor Mahaprasad Adhikari argued that country's financial sector did not slid to wrong direction because of the CD ratio provided in the monetary policy. "The financial institutions have been protected by implementing CD (credit deposit) ratio," he said, adding it had however impacted negatively to some select groups.
He also seconded the finance minister by saying that public-private partnership is essential for recovery of economy that suffered worst by COVID-19.
Similarly, Chief of Central Department of Economics at TU, Prof Dr Shivaraj Adhikari, said government and private sectors are complementary. So, government must facilitate the private sectors. Every misunderstanding between the government and private sectors should be wiped out, he stressed.
Also speaking on the occasion, FNCCI Chairperson Shekhar Golchha underscored the need for accepting MCC, the US support project. It helps foster development in Nepal, he asserted.
Chairperson of Nepal Chamber of Commerce Rajendra Malla viewed NRB must address the problem of liquidity (investable amount) crunch immediately.

---