NEPSE Loses 34.21 Points On First Day of the Week and Closes at 2,200.88; Lowest in 17 months

The NEPSE index closed at 2,200.88 today after losing 34.21 points from last trading day's closing. This is a loss of 1.53%. The index had lost 15.82 points last Friday.
The index opened at 2,241.26 points and went intraday high at 2,249.62. It made intraday low at 2,191.03 and ultimately closed at 2,200.88. This is the lowest closing price in almost 17 months, since 7th January 2021.
224 scrips traded hands via 28,506 transactions. Furthermore, a total of 3,917,655 shares exchanged hands amounting to Rs. 1.369 Arba in the turnover amount. This is higher than last trading day's turnover of Rs. 92.94 crore.
Nabil Bank Limited (NABIL) had the highest turnover of Rs. 4.15 crores closing at a market price of Rs. 899. The shares of Sanima Equity Fund (SAEF) traded the most.
Gurans Laghubitta Bittiya Sanstha Limited (GLBSL) gained the highest 6.2%.
On the other side of things, Mithila LaghuBitta Bittiya Sanstha Limited (MLBBL) lost the highest 5.89% today.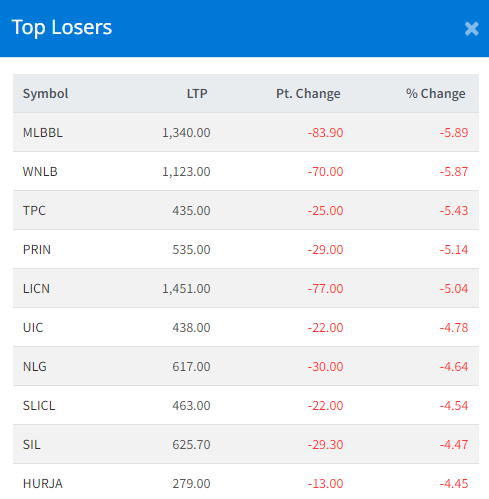 All sector indices closed red, "Life Insurance" lost the highest 2.62% while "Others" lost the least 0.24%.

---