NEPSE Gains Minimal 5.28 Points and Closes at 2,633.65 in a Day of Diminished Volatility and Turnover

The NEPSE index closed at 2,633.65 today after gaining a minimal 5.28 points from yesterday's closing. The index had lost 1.64 points yesterday.
The index opened at 2,628.68 and did not trade lower. While it went as high as 2,649.80, it ultimately closed at 2,633.65.
A total of 5,310,215 shares exchanged hands amounting to Rs. 2.742 Arba in the turnover amount. This is lower than yesterday's turnover of Rs. 3.089 Arba. 223 scrips traded hands via 37,585 transactions.
Nepal Doorsanchar Company Limited (NTC) had the highest turnover of Rs. 14.53 crores closing at a market price of Rs. 1,426 per share. The units of Global IME Samunnat Scheme 1 (GIMES1) traded the most.
Nyadi Hydropower Company Limited (NYADI) and Samling Power Company Limited (SPC) technically gained the most 10% and hit the positive circuit breaker today. Meanwhile, ICFC Finance Limited (ICFC) lost the most 5.62%.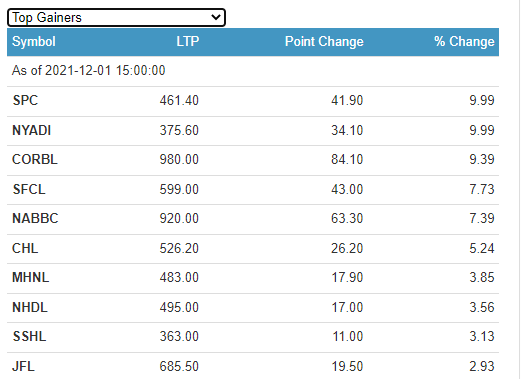 Four sectors have lost and all others closed green. While Hotels And Tourism lost the most 0.55%, "Others" gained the most 0.95%.
---