Increased Electricity Sales and Finance Income; and Lowering Finance Cost results 32.98% Rise in Net Profit of Sanima Mai Hydropower in Q4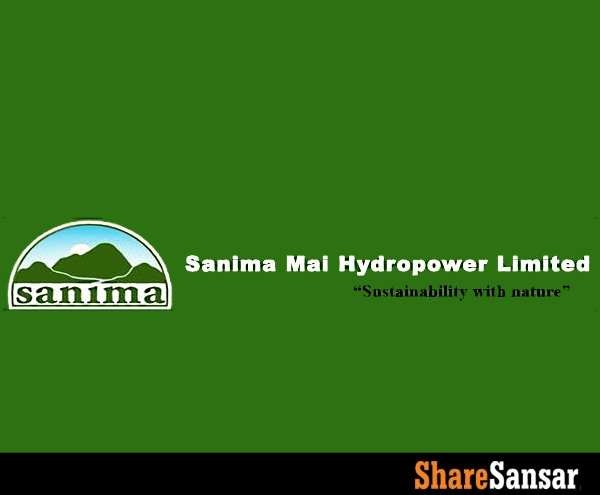 Sanima Mai Hydropower Company Limited (SHPC) has reported an increase in net profit by 32.98% in the fourth quarter (Q4) of FY 2078/79. The profit increased to Rs. 54.05 crores in this quarter from Rs. 40.64 crores in the corresponding quarter of the previous year.
The revenue from the sale of electricity increased by 9.96% in this quarter and financial income has increased by 305.31% as compared to the corresponding previous year's quarter ending.
Till the end of Ashad 2079, Mai Hydropower Plant (22MW) has generated an invoice of Rs 71.05 crores and Mai Cascade Hydropower Plant (5MW) has generated an invoice of Rs 22.44 crores.
The company has invested a total of Rs 1.22 arba in the subsidiary project named Swet Ganga Hydropower and Construction Limited (45 Crores), Sanima Middle Tamor Hydropower Limited (53.32 Crores), Mathilo Mailun Khola Jalvidhyut Hydropower Limited (23.75 Crores), Bavari Construction P Limited (2 Crores) and Sanima Jum Hydropower Limited (50 Crores - Committed Investment).
SHPC has a share capital of Rs 3.08 Arba, whereas, retained earnings are Rs 91.70 crore. At this capital, the EPS stands at Rs. 17.50 and the net worth per share at Rs 129.99. The company sits in a satisfactory liquidity position of 1.85 times.
Major Financial Highlights:
Particulars (Rs in 000)
Sanima Mail Hydropower
Q4 2078/79
Q4 2077/78
Difference
Paid Up Capital
3,089,251
2,808,410
10.00%
Retained Earnings
917,012
671,446
36.57%
Other Reserve
9,413
6,546
43.79%
Property, Plant and Equipment
14,577
15,760
-7.50%
Intangible Assets
3,434,738
3,587,618
-4.26%
Investment in associates
1,225,700
1,225,700
0.00%
Investment in Term Deposits
-
-
0.00%
Cash and Short Term Deposits
73,083
64,410
13.47%
Bowwowings
1,351,450
1,713,412
-21.13%
Sale of Electricity
935,027
850,310
9.96%
Finance Income
39,080
9,642
305.31%
Finance Cost
145,569
185,837
-21.67%
Operation and Maintenance Expenses
178,416
178,304
0.06%
Current Tax
9,103
1,942
368.80%
Net Profit
540,538
406,476
32.98%
EPS (In Rs.)
17.50
14.47
20.89%
Net Worth per Share (In Rs.)
129.99
124.14
4.71%
Qtr End P/E Ratio
17.49
-
0.00%
Current Ratio
1.85
1.98
-6.57%
---