Dhaulagiri Laghubitta To Resume Trading Following NEPSE's Lift on Suspension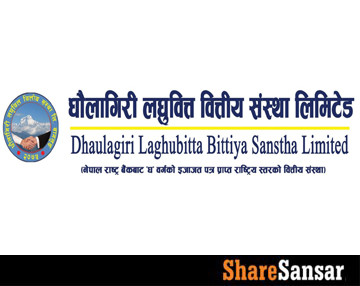 Nepal Stock Exchange Limited (NEPSE) has lifted the suspension on the trading of Dhaulagiri Laghubitta Bittiya Sanstha Limited (DLBS) securities. The company is set to resume trading, marking the conclusion of a brief hiatus prompted by the delayed submission of information regarding the dividend declaration for the fiscal year 2079/80.
In an official notice released by NEPSE, it was disclosed that DLBS failed to provide timely information about the dividend declaration to the stock exchange. According to Securities Listing Regulations, 2075, companies are required to submit notices, information, and decisions affecting securities prices to NEPSE on the same day or the day before the opening of business.
The board of directors of DLBS convened a meeting on the 22nd of Kartik at 4:00 p.m. to decide on the dividend declaration. However, the information regarding this decision reached NEPSE on the following day, 23rd Kartik, at 6:51 p.m. This delay prompted NEPSE to take immediate action, suspending the trading of DLBS securities and requesting clarification from the company within three working days.
DLBS responded to NEPSE's query, explaining that the delay was attributed to a server mail problem encountered on the day of submission, 22nd Kartik. The company claimed that the notice was dispatched to NEPSE on the same day, but due to the server issue, it reached NEPSE on the subsequent day.
Despite the explanation, NEPSE, on its decision dated 2080/08/05, decided to warn DLBS and instructed the release of the suspended securities transactions. The warning emphasizes DLBS's obligation to fully comply with the Securities Listing Regulations, 2075, and the terms.
---