Swarojgar Laghubitta (SLBBL) Distributing 25% Bonus Shares to Demat Accounts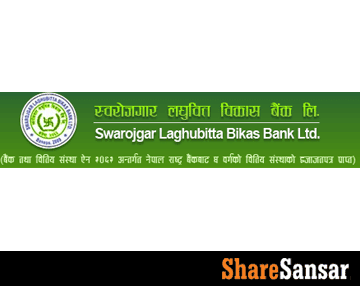 Swarojgar Laghubitta Bittiya Sanstha Limited (SLBBL) is distributing 25% bonus shares directly to the DEMAT accounts of its shareholders.
The 13th AGM of the company held on 27th Kartik, 2078, endorsed a 25% dividend for the fiscal year 2077/78. The 223rd meeting of the board of directors held on Bhadra 22 had proposed the entirety of the dividend in bonus shares. The paid-up capital of the company is Rs. 41,12,79,297. The company has received tax exemption on the bonus shares because it recently (2077/06/25) commenced the joint transaction by acquiring Janakpur Laghubitta.
The same bonus shares are now deposited to Demat accounts. Kartik 12 was the book closure date. Thus, shareholders maintained before that day are entitled to the dividend payout.
For those who have not dematerialized their shares, the dividend will be distributed only after they complete the necessary procedure. Furthermore, investors who have taken margin loans against the shares of the company are required to present a No Objection Letter or a Release Letter, depending on when they took the loan.
---