Sikles Hydropower IPO Collects Rs. 1.72 Arba From 15.38 Lakh Applicants Till Last Day; IPO Oversubscribed by More Than 16.29 Times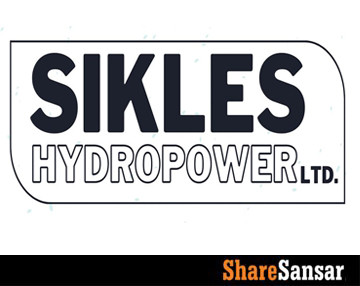 Sikles Hydropower Limited (SLHL) had issued 11,50,000 units shares worth Rs. 11.50 crores to the general public as a part of their Initial Public Offering (IPO) from Bhadra 29 till Ashwin 02, 2079.
Out of the total 11,50,000 units; 3% of the total offered shares i.e. 34,500 units were set aside for the employees of the company and 5% of the total offered shares i.e. 57,500 units were set aside for the mutual funds. The remaining 10,58,000 units were for the general public. The company intends to collect Rs 11.50 crore from this IPO. The paid up capital of the company will reach to Rs. 85 Crores after the IPO issuance.
According to CDSC, 15,38,383 applicants have applied for a total of 1,72,44,380 units worth Rs. 1.72 Arba till last day. Thus, the IPO was oversubscribed by more than 16.29 times in terms of number of units through ordinary applicants as of closing day.
BOK Capital Market was appointed as the issue manager for the IPO issuance. Applications could be placed for a minimum of 10 units and a maximum of 1,00,000 units.
Sikles Hydropower Limited (SLHL) is a public limited company, incorporated in July 28, 2004 as a private limited company and later converted to public limited company in May 17, 2019. The company is setting up 13MW run-of-the-river Madkyu Khola Hydroelectric Project (MKHP) at Kaski District of Nepal. The project came into a commercial operation since April 2, 2018. The project is constructed under BOOT (Build, own, Operate and Transfer) mechanism.

---