Shine Resunga Reports 28.10% Rise In Net Profit For Q4; Distributable Profit Stands at Rs. 47 Crores and EPS at Rs. 17.07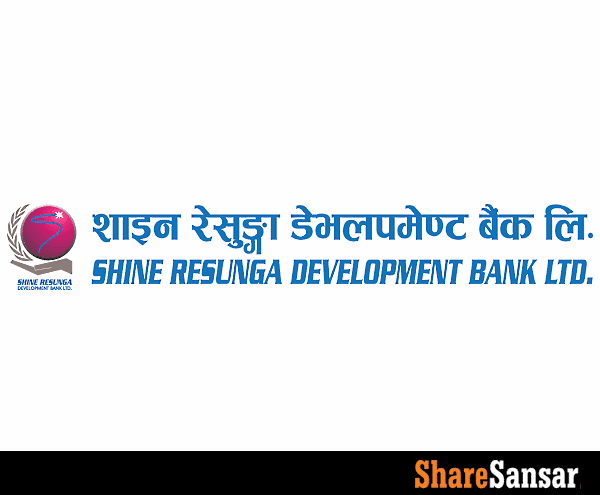 Shine Resunga Development Bank Limited (SHINE) has posted an increase in net profit of 28.10 percent in the fourth quarter of the fiscal year 2078/79.
As per the unaudited financial report for the fourth quarter published today, the development bank has stated that it has a net profit of Rs. 64.5 Crore in the Q4 up from Rs.50.3 Crore in the corresponding period of the previous fiscal year.
Its net interest income increased from Rs.1.33 Arba in Q4 2077/78 to Rs.1.66 Arba for this year's fourth quarter. The bank has collected deposits of Rs.43.27 Arba while it has mobilized loans and advances of Rs.34.49 Arba in Q4. The deposit and loan amount stood at Rs.35.41 Arba and Rs.29.16 Arba respectively in the corresponding quarter of the last fiscal year.
SHINE has a paid-up capital of Rs.3.78 Arba and a reserve of Rs.1.10 Arba.
Its Non-Performing loan (NPL) has decreased to 0.96% in Q4. Its annualized Earnings per Share stands at Rs. 17.07 and its net worth per share stands at Rs.143.03. Its P/E ratio stands at 17.28 times.
Major Financial Highlights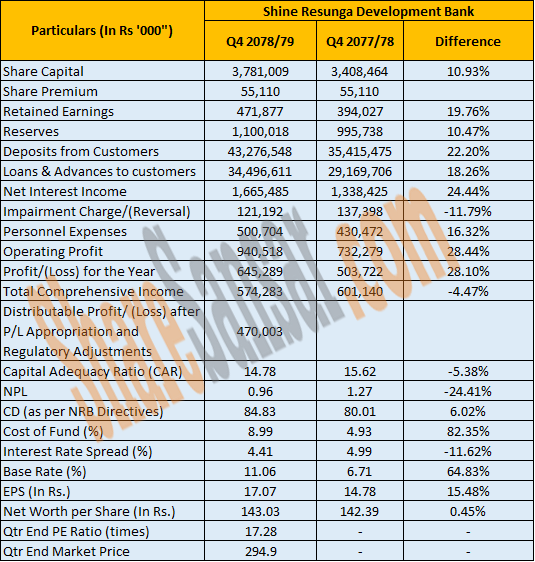 ---