MetLife Foundation and Habitat for Humanity Nepal provide food and basic sanitation items to accelerate home construction amid COVID-19 pandemic
MetLife Foundation and Habitat for Humanity Nepal have announced a partnership to address the needs of future homeowners in Nepal whose livelihoods have been impacted by the country's COVID-19 lockdown. Together with local partner organizations, Habitat for Humanity Nepal's staff will distribute food and basic sanitation items to 250 families in Morang and Saptari including the ex-Haliyas in Kanchanpur. With funding support of US$50,000 (about 600,000 Nepali rupees) from the MetLife Foundation, Habitat for Humanity will grant families a two-month supply of rice, lentils, cooking oil and salt, and various other food items as well as masks, soaps, and other hygiene essentials. Habitat and its partners will also conduct awareness training to promote personal hygiene.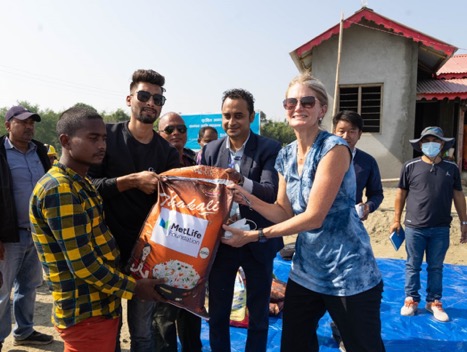 "Amid the global COVID-19 pandemic, MetLife continues to respond to the immediate needs of families in Nepal by providing relief materials. Our purpose as a company is to help people build a more confident future and we hope this partnership with Habitat for Humanity Nepal will alleviate the suffering of the country's most vulnerable families and build stronger communities," said Nirmal Kajee Shrestha, Vice President and General Manager, MetLife Nepal.
Habitat for Humanity Nepal's Food-for-Shelter program supports the national strategy of addressing the chronic issues of substandard living conditions. Habitat for Humanity Nepal serves the poorest and most marginalized families to build safe shelter while also responding to one of the immediate impacts of COVID-19 — access to food.
"We are grateful for the support of MetLife Foundation. Habitat Nepal has helped hundreds of families during the COVID pandemic with our Food-for-Shelter program. This community of Sampanna Basti will be home to 145 families who need to build their houses as quickly as possible, as they are currently living in temporary shelters. This support from MetLife will allow families to focus on construction, rather than seeking day labor to provide for their families. We believe adequate housing is the first line of defense against COVID-19 transmission as we continue working with families to build a stable, healthy place to live," said Christy Stickney, National Director, Habitat for Humanity Nepal.

---