IPO Shares Listed: What's the Opening Range for Jalpa Samudayik Laghubitta (JALPA)?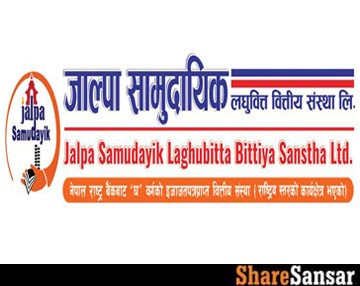 16,00,000 units IPO shares of Jalpa Samudayik Laghubitta Bittiya Sanstha Limited (JALPA) have been listed in NEPSE.
The IPO allotment of Jalpa Samudayik Laghubitta Bittiya Sanstha Limited recently concluded at the premises of the issue manager Prabhu Capital Limited. The company had issued 5,22,000 units worth Rs 5.22 crore as Initial Public Offering to the general public from (Magh 21-25, 2078).
Out of the offered 5,22,000 units; 0.5% of the issue, i.e. 8,000 units were set aside for the employees of the company and 5% to mutual funds. The remaining 4,87,900 units were purely for individual investors.
The issue had received applications from 25,91,702 valid applicants who had applied for a total of 3,07,16,830 units. The issue was oversubscribed more than 62.95 times.
As per the allotment module, a total of 48,790 applicants were allotted 10 units each via lottery, and the remaining 25,42,912 applicants were returned empty hands. A total of 8,000 units were allotted to the staff of the company and 26,100 units were allotted to mutual funds. In total 4,290 applicants who applied for 50,640 units were disqualified.
The Open Price Range is set as Rs.164.60 to Rs. 493.80 for the first transaction. If the first transaction can happen at this range, the shares can be traded from coming Sunday itself.
On the allotment program, the company chairman Mr. Bir Bahadur Adhikari expressed the company's gratitude to applicants, the issue manager, SEBON, journalists, and all other participants in the process. While the company is currently serving 95,000 clients from 28 districts via 524 employees, Adhikari said that they plan to reach 60 districts via 900 employees and invest Rs. 8 Arba in the near future.
Furthermore, Adhikari also stated that the board members have 15-20 years of experience in the banking and finance industry. The company is backed by commercial banks and development banks as promoters, which enables it to get seasoned advice and guidance when needed.

---