How Much Premium Have the 16 Non-Life Insurance Companies Amassed Through Chaitra of FY 2079/80?
When we take a careful look at the numbers of non-life insurance, it seems that this sector has been growing at a steady rate. Nepalese insurance companies are also one of the successful enterprises of Nepal, which are still running the insurance business without suffering heavy losses from the date of establishment until now.
Previously, the business penetration was quite low and was not achieving its full potential but due to the covid-19, it has brought a favorable scenario for the insurance business which can be seen by the increasing numbers.
Shikhar Insurance Company Limited from the Non-life insurance sector collected the highest premium worth Rs. 4.15 Arba. Likewise, the newly merged company 'Sagarmatha Lumbini Insurance Co Ltd' which has 265,558 insurance policies collected a premium worth Rs. 3.48 Arba as its insurance premium till Chaitra of F.Y 2079/80.
As per the report published by Insurance Authority, Siddhartha Premier Insurance Limited has the highest number of insurance policies of 269,888 with premium worth Rs.3.35 Arba.
On the other hand, the National Insurance Company is the one that earns the lowest insurance fee. The Insurance company has earned only Rs. 76.32 Crore, out of its 24,949 insurance policies during this period.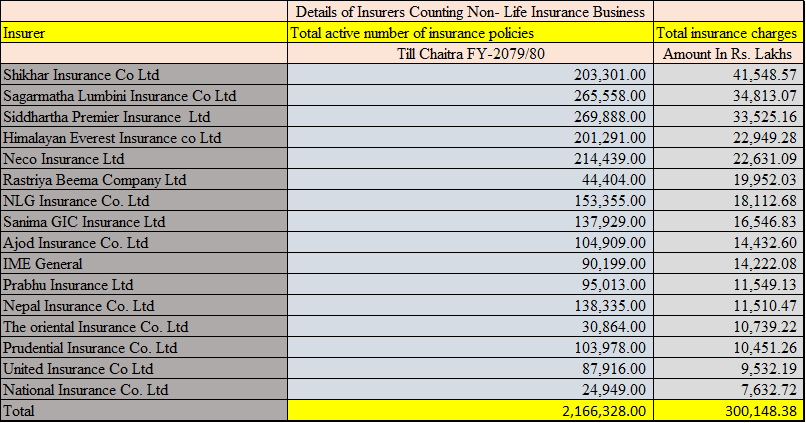 Note:- Investors of all insurance companies should understand the quality of insurance policies is important rather than number of insurance policies. Moreover, these policies might include scheme such as foreign employment insurance policy which provides less net premium so some insurance companies do not prefer such policies. Hence, judging an insurance company based only on number of insurance policies would be absurd.

---